THE LEGAL WORLD'S FIRST GLIMPSE OF THE "MOST FAMOUS LITIGANT OF ALL TIME"*
We are privileged to publish what may well be the first picture ever publicly seen of the plaintiff whose action changed the law, not only in Scotland but throughout the common law world: May Donoghue of Donoghue v. Stevenson, 1932 SC (HL) 31, perhaps the 'most famous litigant of all time'.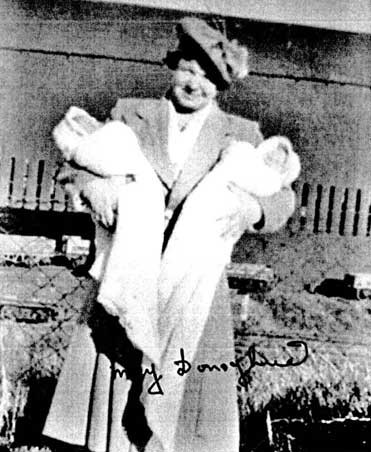 An important caveat. The image that accompanies this note is not an autographed portrait in the strict sense. The signature is taken from a pleading in her case.
May Donoghue is referred to in the 1932 Appeal Cases as "McAlister (or Donoghue) (Pauper)". Other reports of her case refer to her as "Mary Donoghue", and also "M'Alister". She was born May McAllister, on July 4, 1898, spent her whole life in the poorer districts of Glasgow and had a twelve year marriage, of which four children were born; only one of whom, a son, survived infancy.
By the time of her death, on March 19, 1958, May chose to be known neither as Donoghue, nor McAlister, nor McAllister, nor M'Alister, nor indeed as May, but as "Mabel Hannah", these being her mother's names.
The event which brought her immortality (and billions of dollars for others, in which the legal profession around the world has had some small share) occurred on August 26, 1928. She was then 30, separated from her husband and living with a brother on Kent Street. When the case came before the House of Lords, she had moved closer to the commercial centre of the city to a Maitland Street address that she gives in 1931 in her petition to appear before the House in forma pauperis. She lived there with her son, Henry, until his marriage in 1937. Henry lived with her again after this marriage, by which he had one child, came to an end in 1943. He remarried in 1946 and thereafter had three boys and four girls, two of whom appear in this picture.
Much of this information is drawn from a paper published in 1988 by Alan Rodger, Q.C., then Solicitor General for Scotland, now Lord Rodger of Earlsferry, a judicial member of the House of Lords. He lamented the lack of any picture of May Donoghue and, with reference to what he hoped would have been her happier times between 1947 and l957, wrote: "It may not be too fanciful to imagine that during this period Mrs. Donoghue may have enjoyed the company of her grandchildren." The want has now been filled, the hope shown amply justified. The picture, apparently taken at a station, shows May holding Henry's twin daughters, Elizabeth and – yes, May – on their christening day, in June 1952. This was 24 years after she drank snail-tainted ginger beer and 20 years after her momentous victory, by which time May Donoghue would have been 54. Despite the difficulties of her life, she seems younger and is obviously enjoying herself.
The picture came to David Hay, of Richards Buell Sutton LLP, co-producer of the movie The Paisley Snail, at his Donoghue v. Stevenson website, from Margaret (Maggie) Tomlin, younger sister of the twins shown. Ms. Tomlin, who lives in Dorset, only learned in recent years of her grandmother's legal fame.
This discovery ranks as a priceless addition to the Donoghue v. Stevenson archive.
*This article has been amended slightly from the original. It is reproduced by kind permission of the author and the Vancouver Bar Association in whose journal, The Advocate, the original article was published.